This section explains how to make a payment to a single invoice. To use one payment to pay multiple invoices, see Using one payment to pay off multiple invoices.
Payments can only be made against an invoice that has been marked as sent. To mark the invoice as sent, click 'Actions' and select 'Mark Sent', using today's date or another date.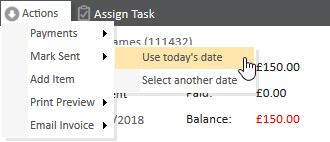 This will lock the invoice for future editing so be sure the invoice is correct before proceeding.
A warning will be displayed confirming the operation. Click 'Yes' to proceed.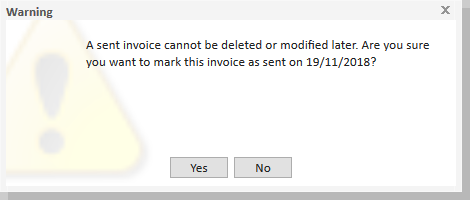 Next click the 'Actions' button and select 'Payments' > 'Make Payment'.
The payment screen will load.
Enter a value and payment method, and any other information relating to the payment.
Click 'Save' to save the payment.
You will be warned that payments cannot be deleted or modified later - click 'Yes' to proceed.
The popup window that appears after the payment is saved can be closed either by clicking 'Save' or the x icon in the top right.