Meddbase has a feature that allows patients to send and respond to messages between them and medical professionals. This feature is our online messaging and is available to the patient via the Patient Portal, so you need to have this chargeable feature enabled in your chamber. To learn more about the Patient Portal please feel free to read our article Patient Portal Setup.
In order to enable the online messaging, you need to navigate to Start Page>Admin>Billing Rules, select the appropriate charge-band and tick the option 'Allow online messaging'.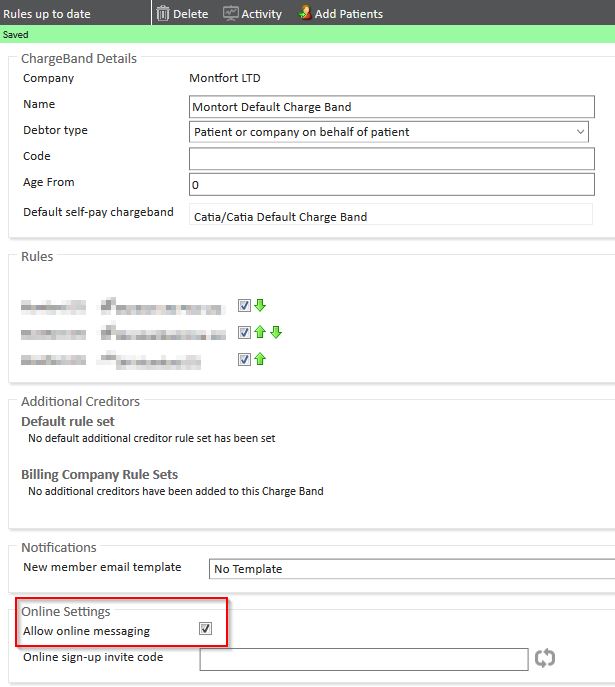 Once you have enabled this, in the Patient Portal a new option will become available: Inbox.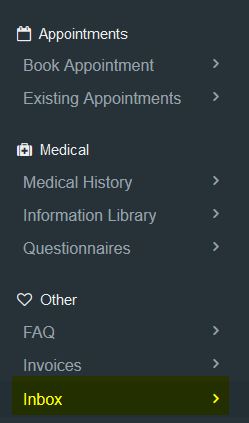 The user of the Patient Portal will be able to select this option to display the feed shown below. They will be able to type the message here and this will be delivered to Meddbase.

The messages sent by the patient will show in Meddbase under Start Page>Patient>Find and Select patient>Feed. You will be able to view and reply to those messages here. You will need to select whom you sharing this with, so you have the option to share the message with other roles and the patient by ticking the box 'and also share with the patient' or you can change the drop down to share just with the patient.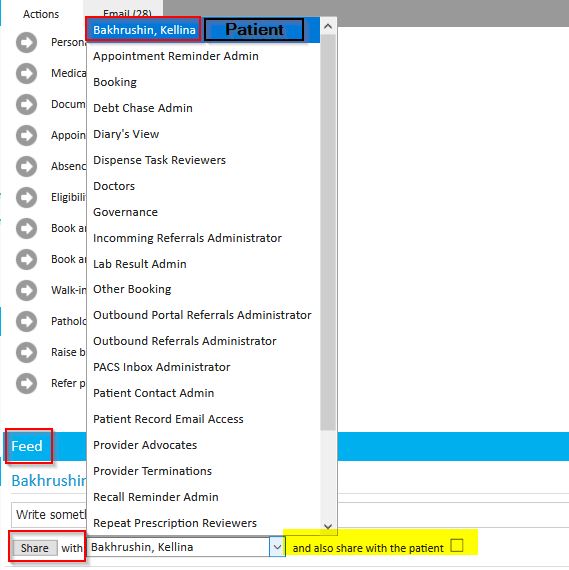 It's important to set up notifications so that both you and the patient knows when a message has been sent. Go to Start Page>Admin>Configuration>Online Portal and start by selecting under General settings>Role for new messages what role in Meddbase is going to be notified every time a patient sends a message. By default, this is set to 'Appointment Reminder Admin'.

In the same Start Page>Admin>Configuration>Online Portal, go to 'New shared items notification' and select 'Enable new shared items email' so that the patient can be notified whenever you replied to a message. In this same setup you can select 'email send delay in hours'. If you wish the patient to be notified the second there's a new reply to one of their messages then you must enter 0.