In this guide, we will walk through enabling the Mail merge function in your Chamber, setting up your Sendgrid account and entering your API key to link Meddbase and Sendgrid.
We'll also run a basic Mail Merge for email.
Because the Mail merge function is a chargeable feature, it must be enabled before you can begin to configure it. You can enable Mail merge from within:
Start Page > Admin > Configuration > Chargeable feature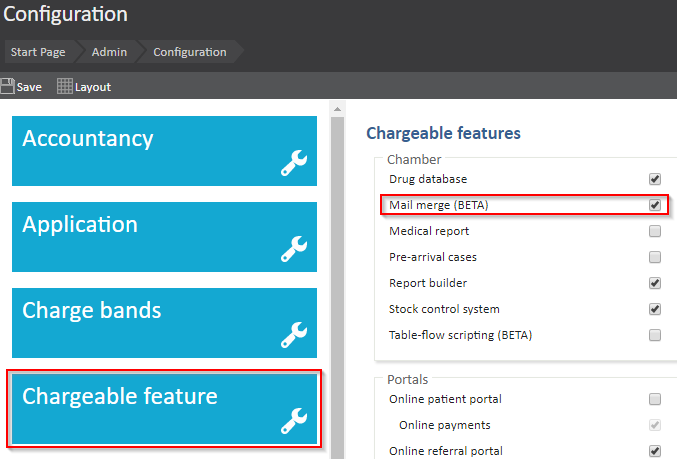 Once you have enabled Mail merge, you will need to sign up for a Sendgrid account, you can do this here:
https://signup.sendgrid.com/
In short, Sendgrid is a service that we have integrated with to allow the bulk sending of emails.
After you log into your Sendgrid account, we will need to generate an API key to link Sendgrid with Meddbase.
You can do this by clicking on 'Settings' on the menu on left, followed by API Keys as pictured below.
You will then need to enter in a name for your API key, anything will do. Ensure that 'Full Access' is selected then click Create & View.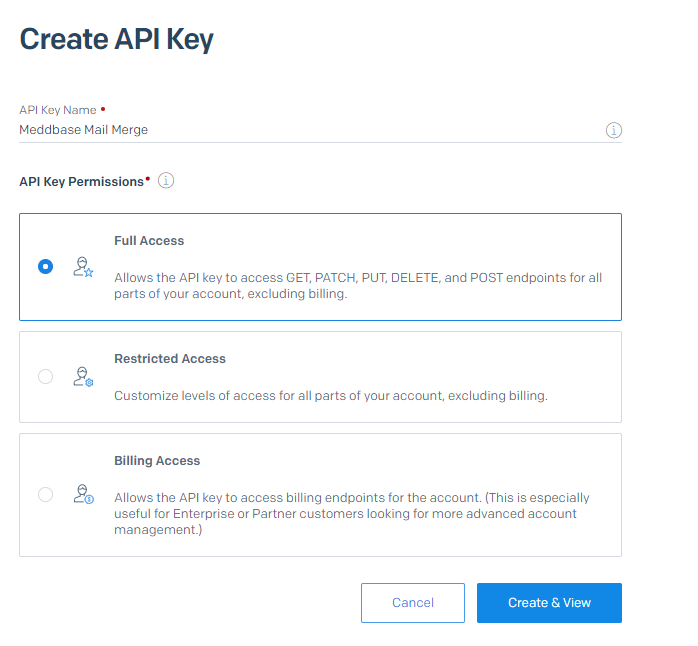 If you have followed these steps, you should now be able to see your API key, it is important to store this key somewhere safe as it is only shown once.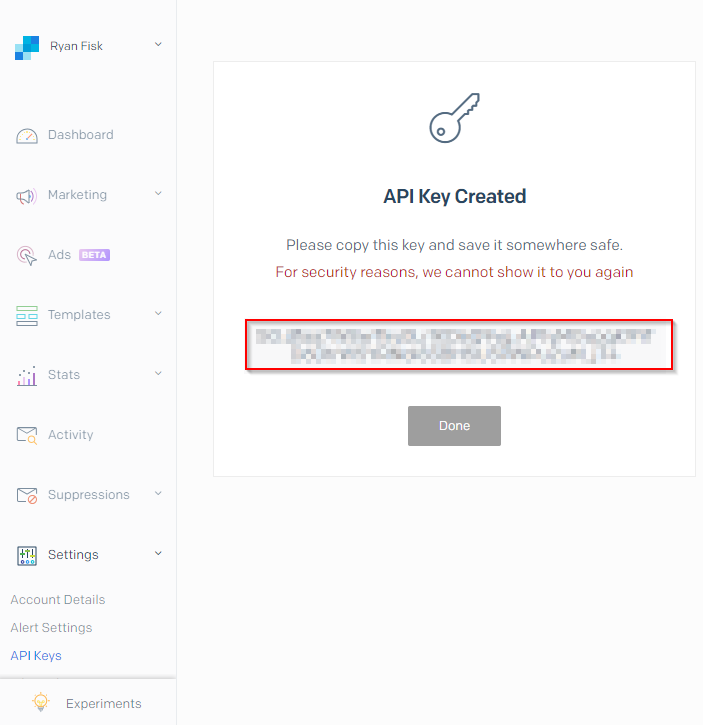 After storing your API key in a safe place to use later, it's time to add a Single Sender Verification. This will be the email address you want to use as the sender the replier.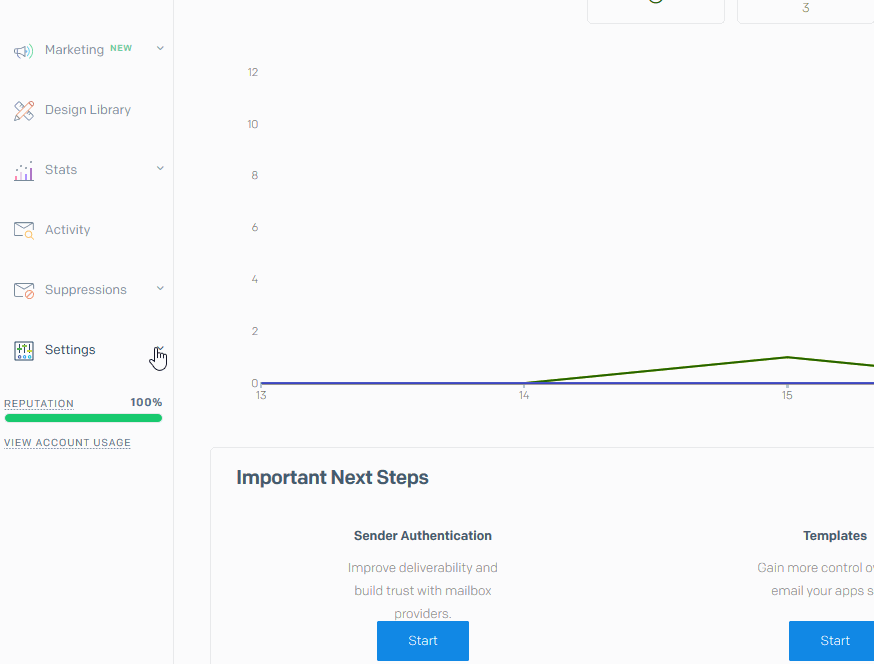 After completing this, an email verification will be sent to the email you entered. For this reason, you need to be able to access the email send to the sender so you can verify your account. Once you click on the link received in the email your account will be shown as 'Verified'.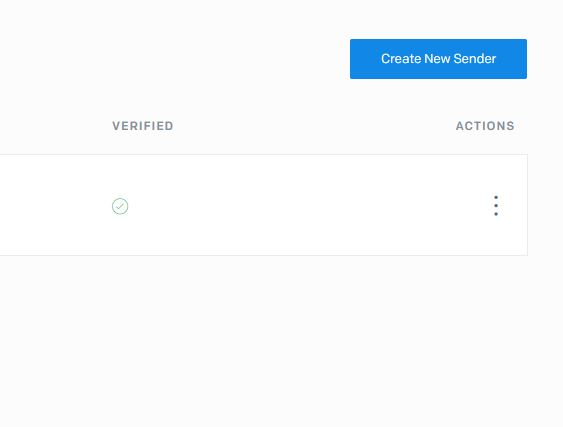 You can now enter your API key into the Email configuration page within Meddbase. You can find this by navigating to: Start Page > Admin > Configuration > Email
Don't forget to Save the changes to settings before leaving this page.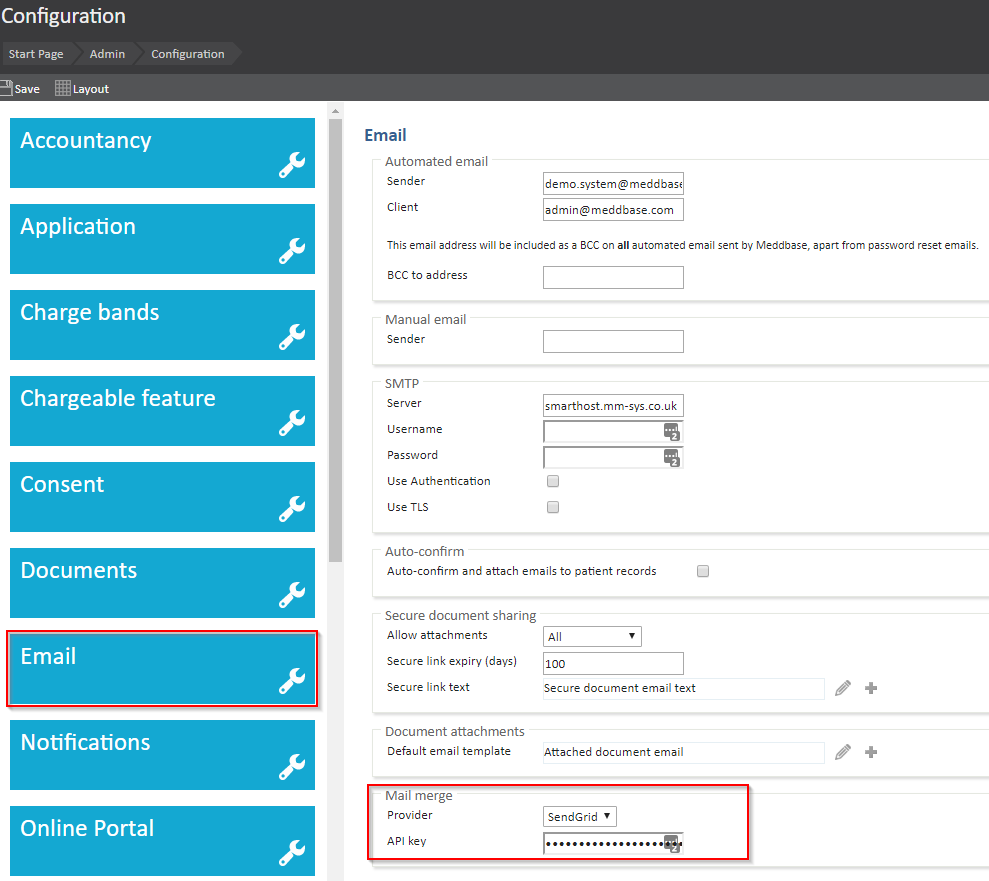 You can now create a Mail Merge Query, you can find this by navigating to Start Page > Admin > Mail merge administration
Creating a Mail Merge Query is similar to creating a query in the Report Builder. You can find more in-depth information on how to build queries and how Report Builder works here.

You will then need to select a root table from which to draw contact information such as an email address or mobile number. In this example, I would like to email patients. I have selected Patient Demographics as the Root Table as I would like to create a list of all of my Patient's email addresses.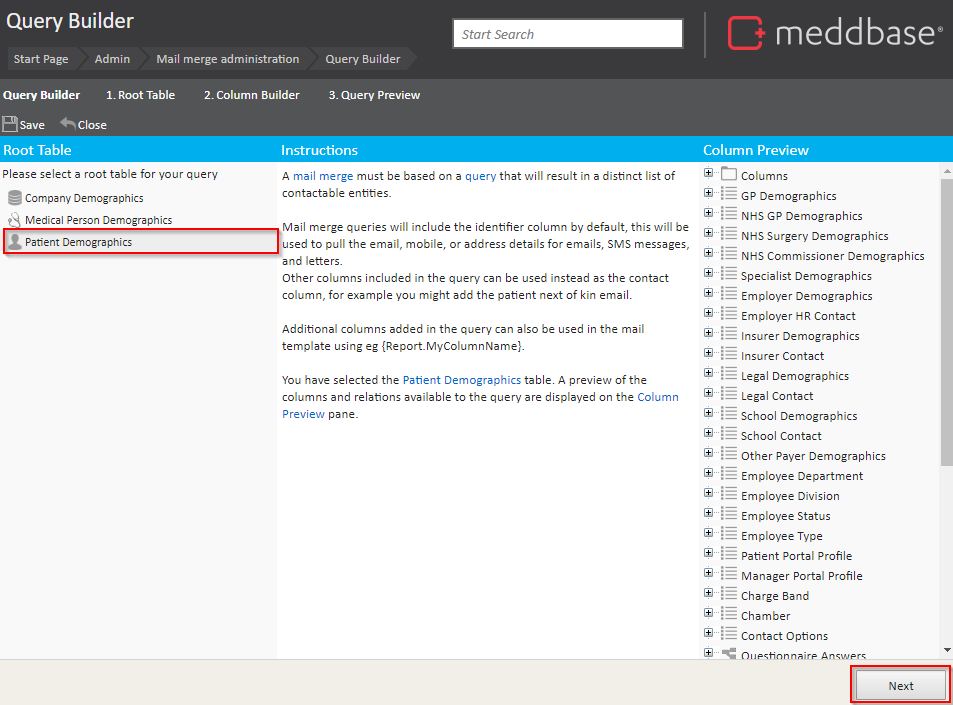 I have also added an additional column for the patients full name, you can however customise your Mail Merge to suit your requirements.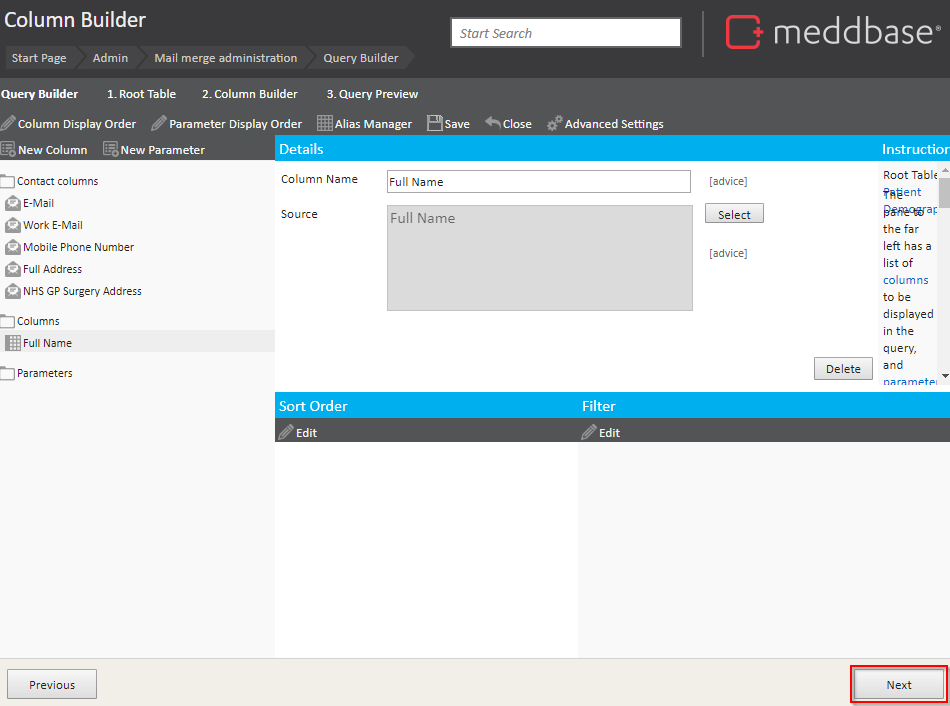 After selecting your columns and filtering the columns to meet your requirements, you can press 'Next' to run a preview which will provide you with your patient's contact information based on how you configured your columns on the previous screen.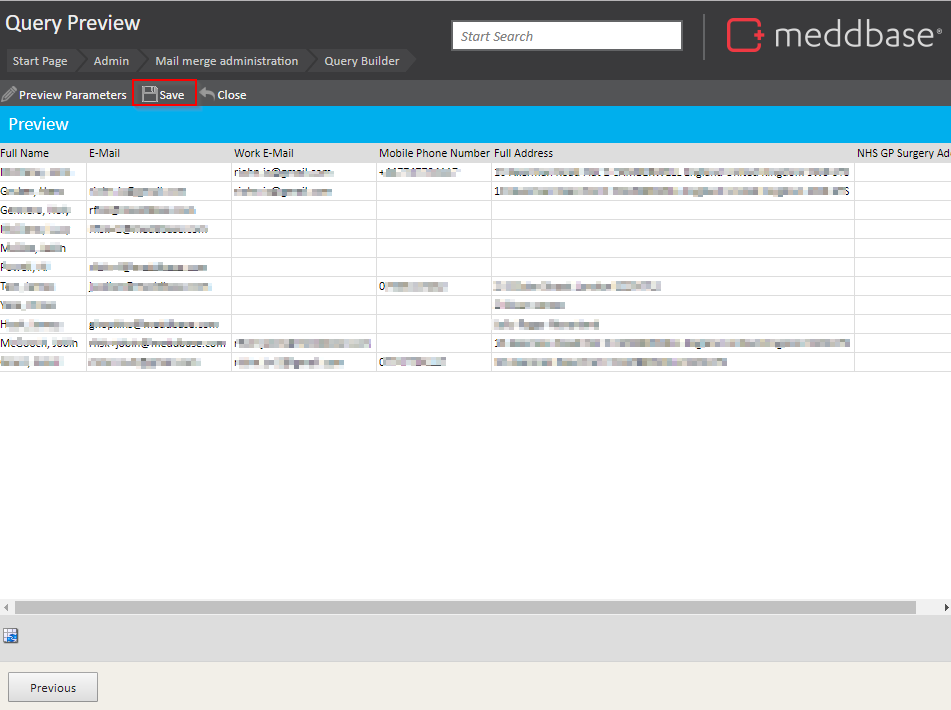 After you have a list of contacts you would like to mail, you can go ahead and save the mail merge with a name of your choosing.
You need to return to the main screen Start Page > Admin > Mail Merge Administration, you will now be able to find your saved Mail Merge

Before we run our Mail Merge, we want to configure a few additional things such as the type of contact we are making, what template we would like to use and which stored email address we would like to use. We can do this by clicking on 'Publish Mail Merge'.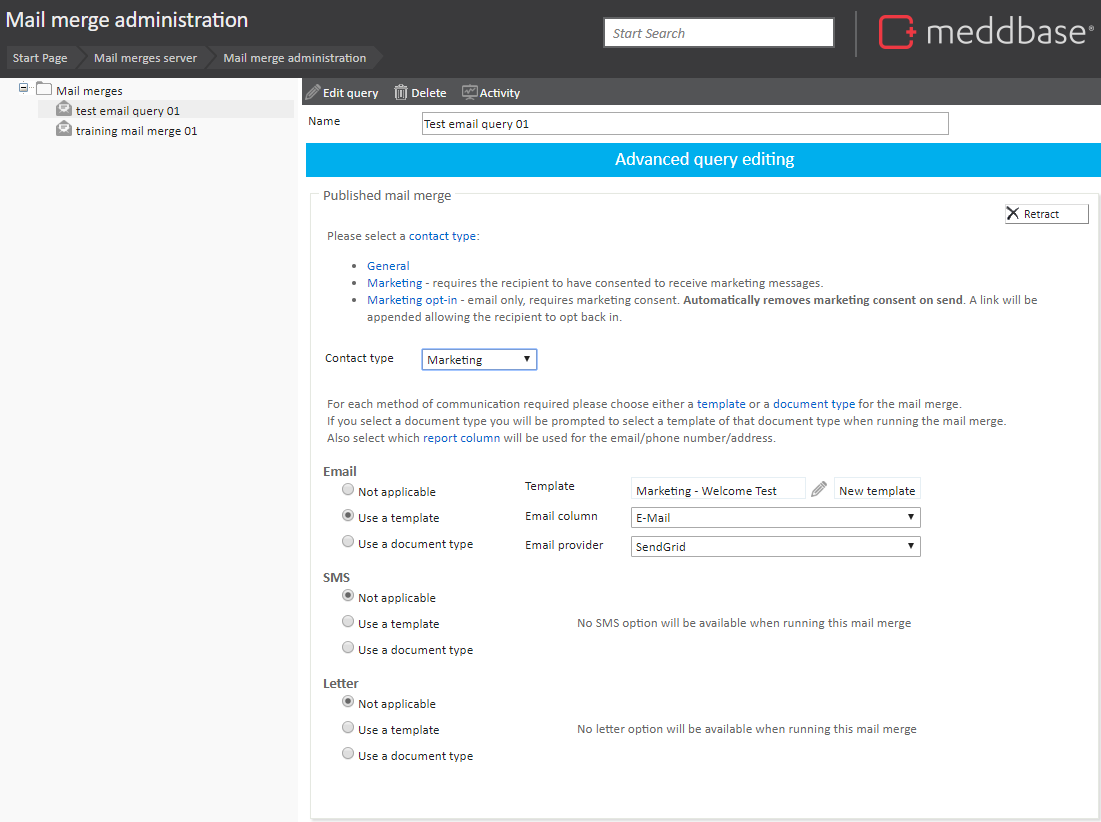 You can create your own template, select a previous template or use a document that already exist within your templates of Meddbase.

Please not that Marketing opt-in option is only to allow for an email mail merge not SMS or Letter.
Once you have finished configuring the above, you can now proceed with sending your mail merge. To do this you need to go to the Start Page > Mail Merges.
You can now select your published mail merge from the management section you created earlier. Once you have selected the mail merge you would like to work with click 'Show results'. This should bring back a list of contacts that will receive your Mail Merge.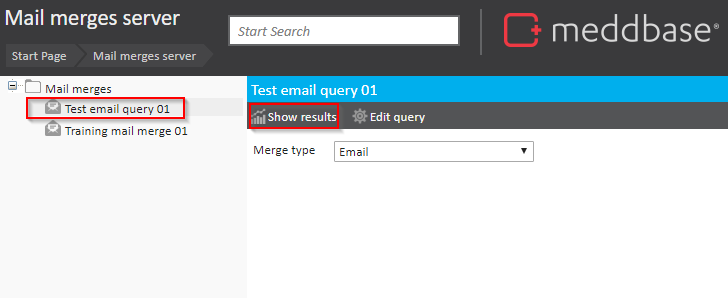 This screen gives you the opportunity to check that the contacts are correct before you run your Mail Merge. If you are happy with the results, you can now click 'Send' to run your Mail Merge!