What is the Context?
---
There are advanced settings in Meddbase that affect Clinical form behaviour and enable additional features.
What is the article purpose?
---
This article will walk you through the process of enabling Advanced Clinical form options and outlines the effects on the behaviour of a Clinical Form.
Accessing and updating Advanced Clinical form options
---
To access the Advanced Clinical form options, the following process applies:-
1. From the Start Page navigate to Admin > Configuration > Appointment
2. In the Advanced section, consider the options explained below
3. Tick check-boxes for settings to be activated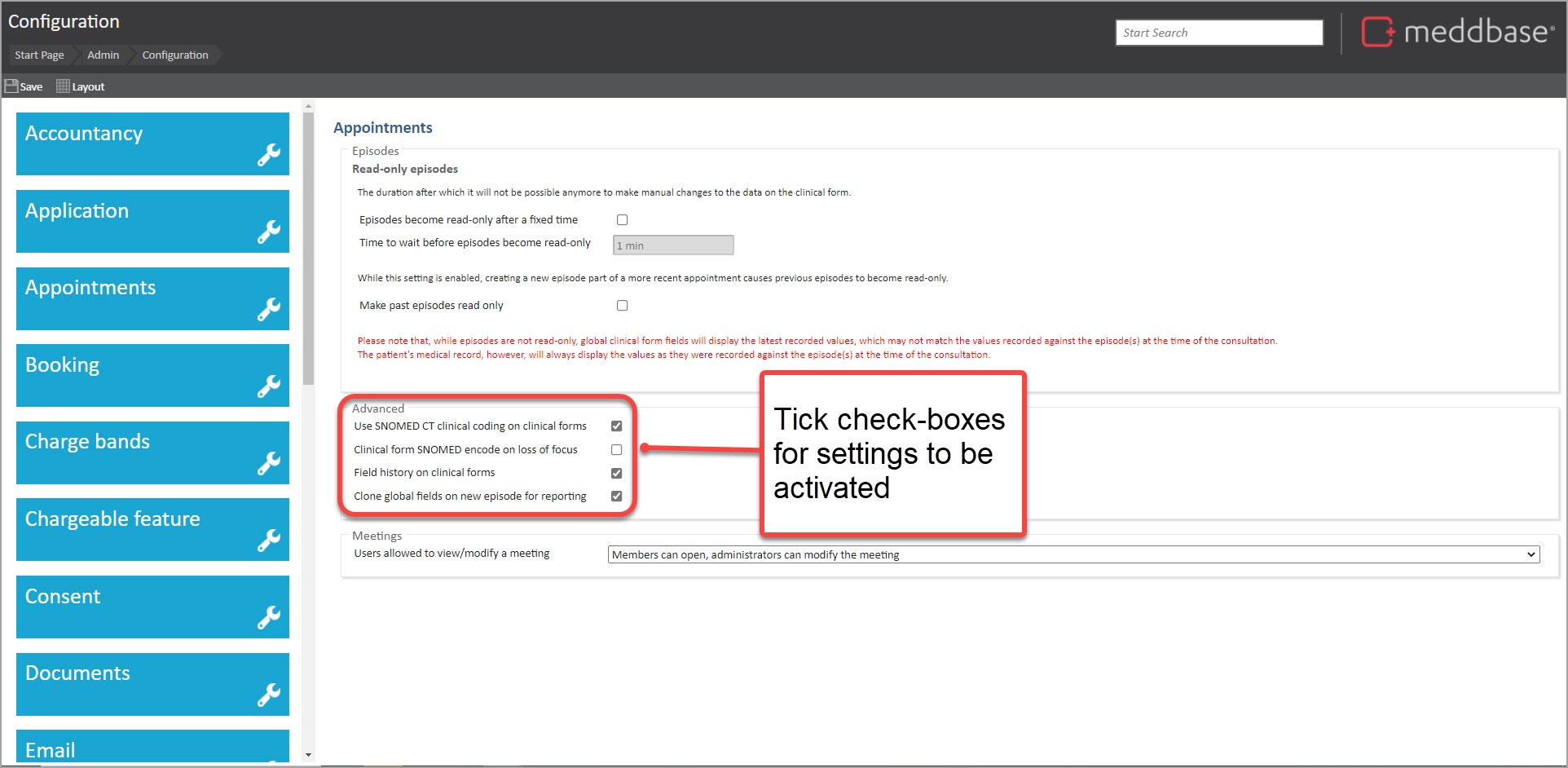 4. Click Save
The Advanced Clinical form settings are updated according to the selections you have made.
Understanding Advanced Clinical form options and what they mean for users
---
Below are explanations for the different Advanced Clinical form settings and what they mean for users.
Use SNOMED CT Clinical coding on clinical forms
---
Having activated SNOMED CT, when typing data into a field, you will notice a pop-up window with suggestions of words and phrases based on what you are typing. There are 2 types of suggestions you may see:-
Regular predictive text (shown in Black font) - words or phrases you may wish to enter into a field are suggested. Clicking a suggestion populates it into the field.
SNOMED CT* code matches (shown in Blue font) - each field may have a number of clinical terms attached.
When typing into a text field, the clinical form continually submits the text to the SNOMED CT service in an attempt to match what is being typed with SNOMED codes. Any matches that are found will be added as Tentative against the patient. The tentative matches can then be confirmed, negated or deleted. SNOMED codes are taken into account when Prescribing drugs and in Reporting. 
*Please Note

– SNOMED CT is a structured clinical vocabulary for use in an electronic health record. It is the most comprehensive and precise clinical health terminology product in the world. The primary purpose of SNOMED CT is to encode the meanings that are used in health information and to support the effective clinical recording of data with the aim of improving patient care.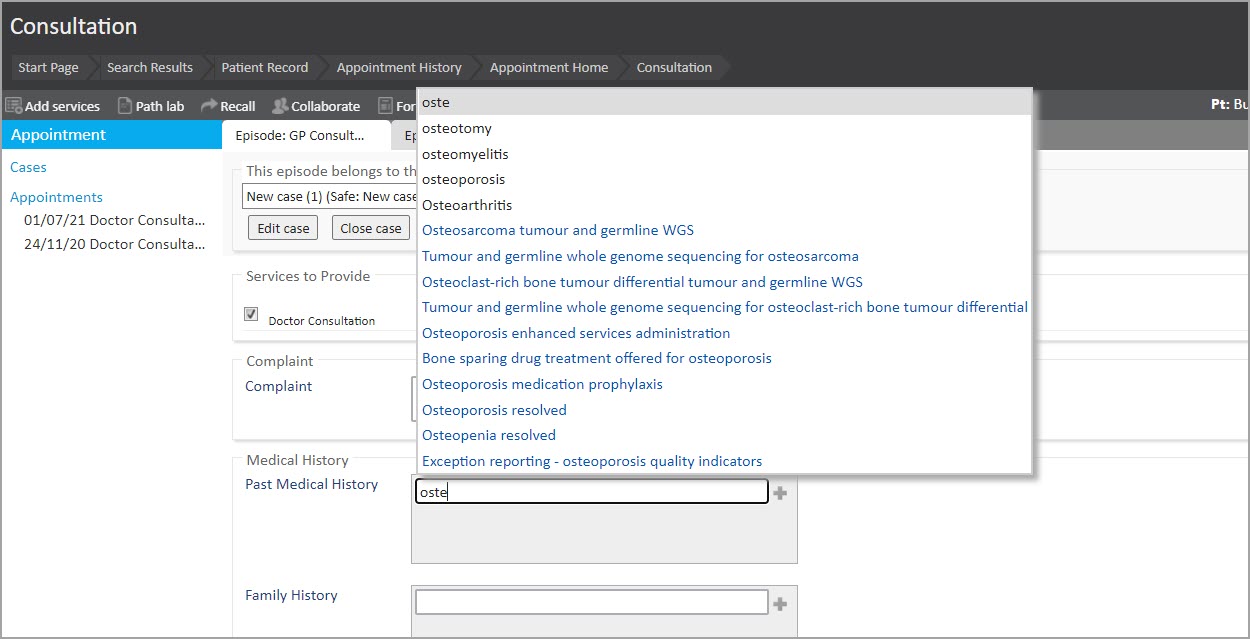 Field history on clinical forms
---
By enabling Field history on clinical forms it enables the user to view the history of entries in a particular field.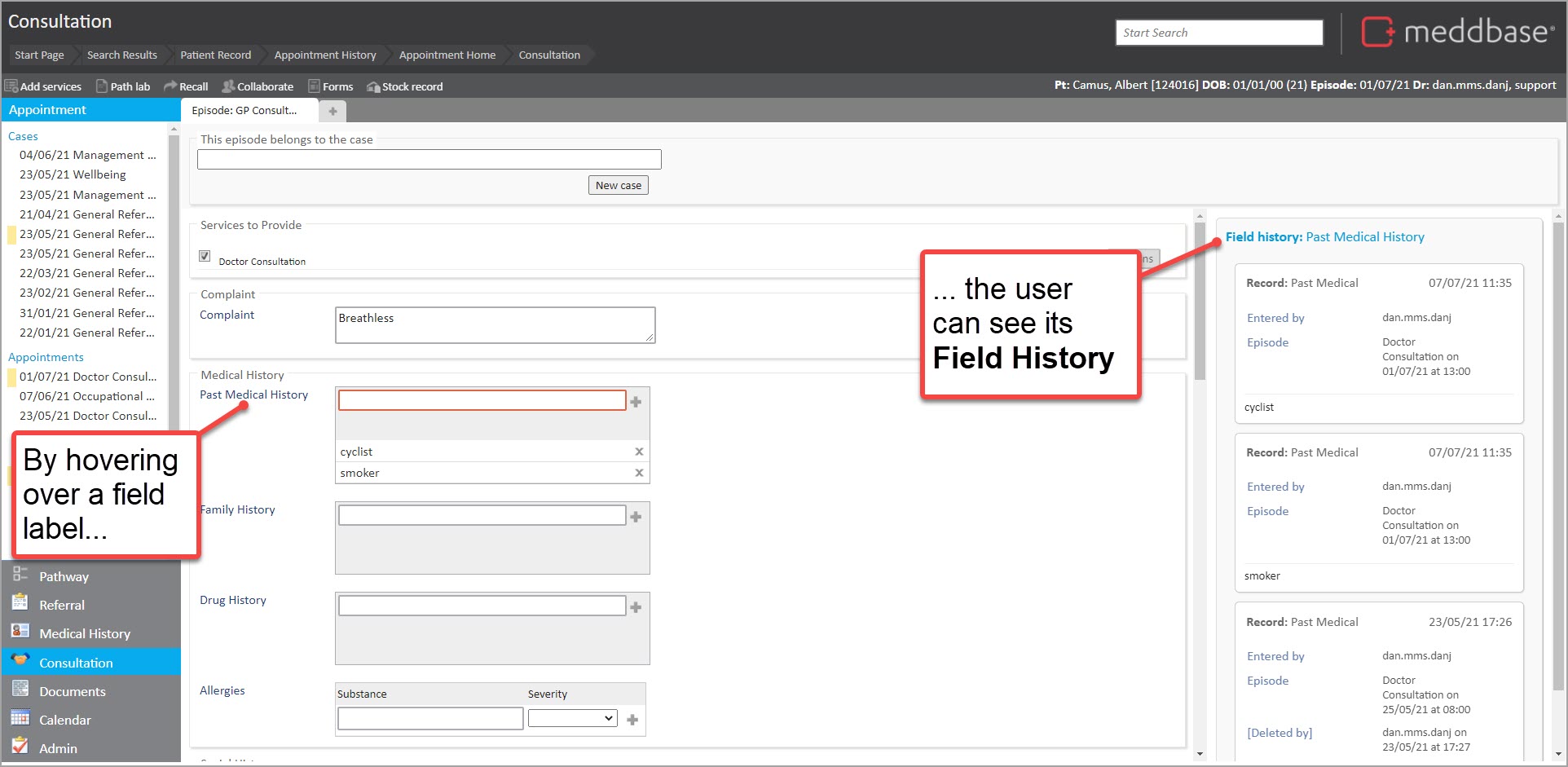 Clone global fields on new episodes for reporting
---
By enabling Clone global fields on a new episode for reporting, a value captured in a 'Global' field is carried over from episode to episode. For example, if the patient has Smoker value selected, it'll remain selected on future episodes until changed.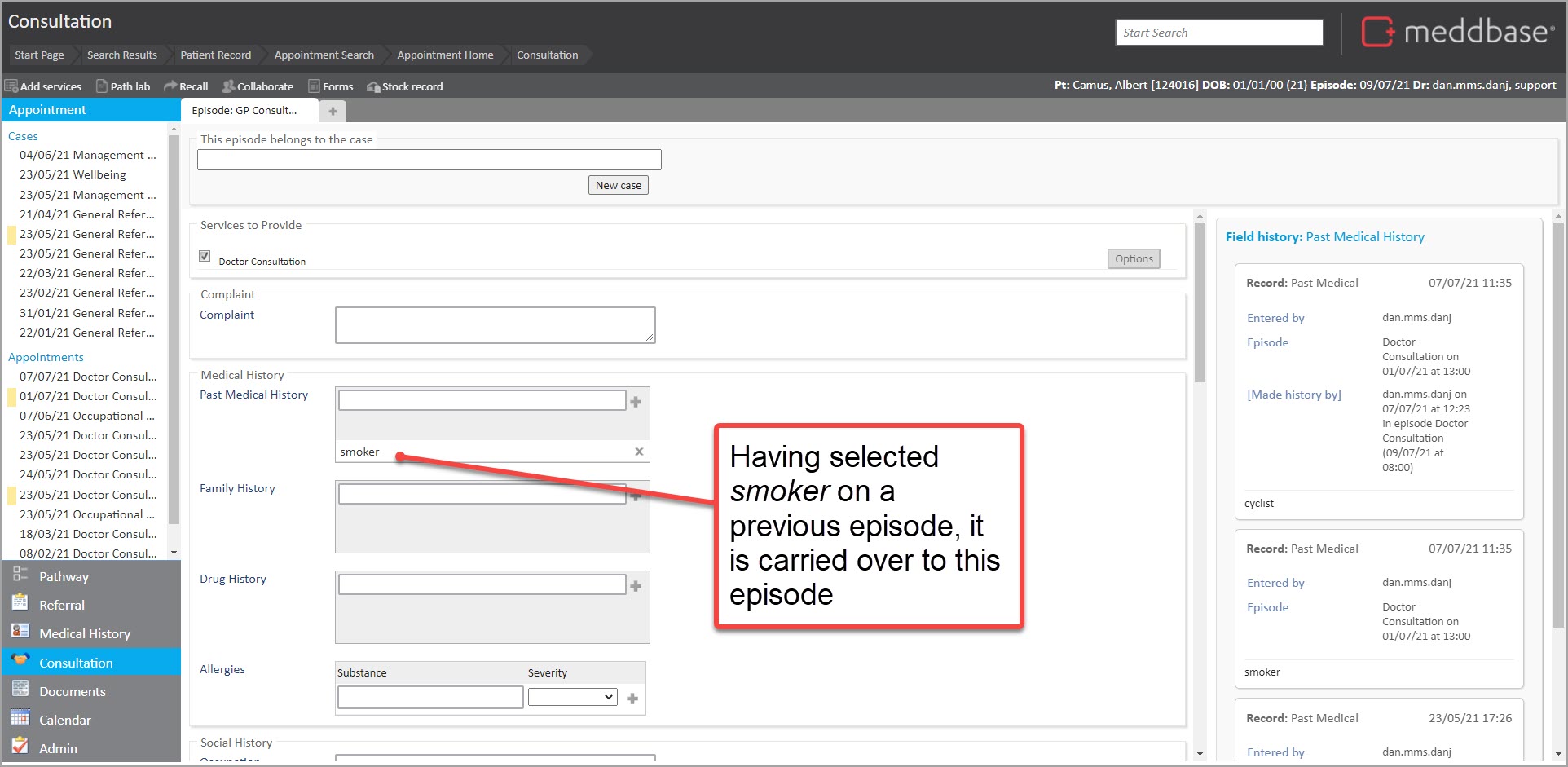 If you need to audit the values for that field for every episode in a report, this feature needs to be switched on, so that active values get brought forward at the start of every episode or when an appointment is marked as arrived.
Otherwise, if this feature were disabled, the report would only consider episodes where the value had changed in a global field.
Review date
---
This article was last updated on 9th of July 2021 in the context of Meddbase version 1.245.0.31828.