What is the purpose of this article?
---
This article should teach the reader how to take pre-authorised payments against an appointment type.
What is the context of this article?
---
Clients may require patients to make pre-authorised payments ahead of an appointment. This article details the workflow of how MMS Users can take a pre-authorised payment.
Pre-requisites
---
Steps to Use This Feature
---
Once you have an appointment booked for your patient you should access it via the Patients Record. Start Page > Patient > [Select Patient] Patient Record > Appointments > [Select Appointment]
To raise a pre-authorised payment, open the appointment and scroll down until you find the Pre Authorised Payment option.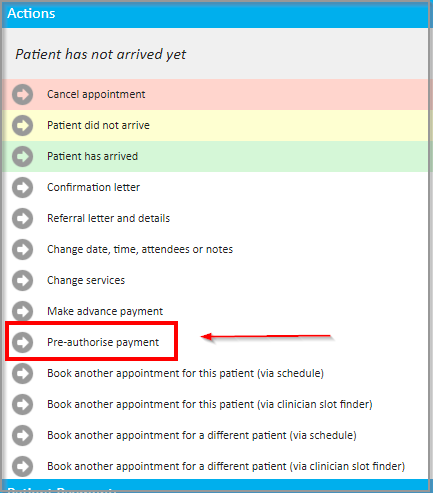 Populate the following Pop-Up window with the relevant information (see table below)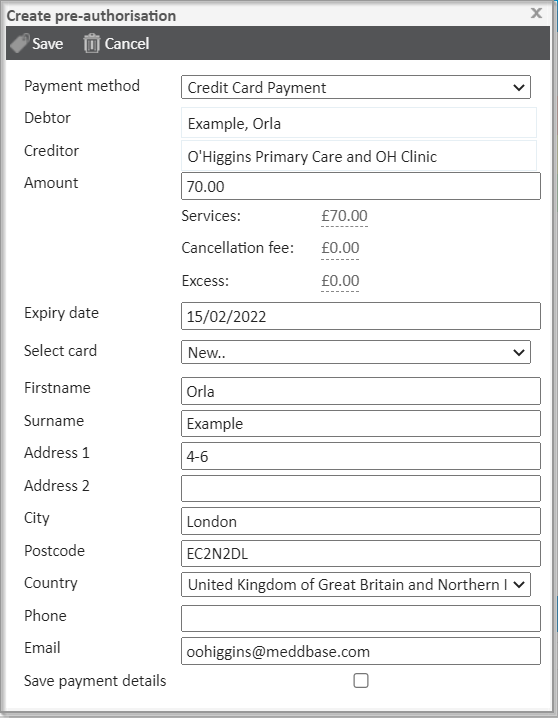 | | |
| --- | --- |
| Field Name | Description |
| Payment method | Select the drop-down option and select OPAYO (name will appear as it has been configured in Common Catalogue) |
| Debitor | Patient name |
| Creditor | Which company is to receive the payment |
| Amount | Total amount to be held against the card. The maximum this can hold is the sum of the services, cancellation, and excess. |
| Services | The total amount of appointment type including; services, products, modules, tests, PACs. |
| Cancellation | The DNA/Cancellation fee the patient will be charged if they DNA/cancel late |
| Excess | The amount of excess raised against this instance. |
| Expiry date | The date this pre-authorised payment will be held until. |
| Select Card | Any cards already used and saved by this patient will be available here* (these are securely stored tokenized on OPAYO) |
| Name | Name on card |
| Address/Email/Phone | Address, email address, and phone number of payee |
| Save payment details | Tick option to save card details for later* |
*Note: the CVC will be required on all saved cards to prevent payments from being taken without the patient's consent.
Review date
---
This article was last updated on the 24th of January 2022 in the context of Meddbase version
1.247.0.37099