The work section is used to assign specific work items to groups or individual staff members. Items can be assigned automatically by the systems, or configured by individual users.
Work items are displayed on the left panel of the Med+DBase start page. Each work items has a full audit trail and version control.
By default, there are five different work items by default:
· Tasks
· Recalls
· Pathology Result
· Debt Reminders
· PACS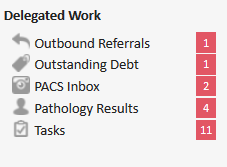 Each work item has different configuration options.
For details regarding the configuration of these work items, see the relevant article.